Ms. Escalera's Web Page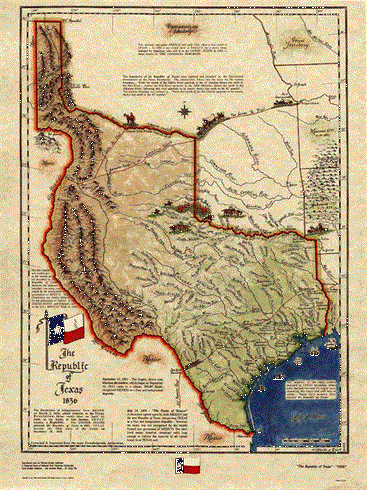 In seventh grade students will study the history of Texas from early times to the present. Content is presented with more depth and breadth than in fourth grade. Students examine the full scope of Texas history, including Natural Texas and its People; Age of Contact; Spanish Colonial; Mexican National; Revolution and Republic; Early Statehood; Texas in the Civil War and Reconstruction; Cotton, Cattle, and Railroads; Age of Oil; Texas in the Great Depression and World War II; Civil Rights and Conservatism; and Contemporary Texas eras. The focus in each era is on key individuals, events, and issues and their impact. Students identify regions of Texas and the distribution of population within and among the regions and explain the factors that caused Texas to change from an agrarian to an urban society. Students describe the structure and functions of municipal, county, and state governments, explain the influence of the U.S. Constitution on the Texas Constitution, and examine the rights and responsibilities of Texas citizens. Students use primary and secondary sources to examine the rich and diverse cultural background of Texas as they identify the different racial and ethnic groups that settled in Texas to build a republic and then a state. Students analyze the impact of scientific discoveries and technological innovations on the development of Texas in various industries such as agricultural, energy, medical, computer, and aerospace. Students use primary and secondary sources to acquire information about Texas.
I offer tutoring on Thursday's from 3:00 - 4:00 p.m. or upon request.  Students are to come to class each day prepared for class with a red pen, blue pen, composition book, & positive attitude.  Students are expected to stay focused and on task at all times.  Homework is assigned at least once every two week.
Parents are encouraged to check student's assignments & composition book on a regular basis.
Links for Social Studies review:
[Link]http://quizlet.com/subject/8th-grade-social-studies/
[Link]http://tutorial.teachtci.com/
[Link]http://www.glencoe.com/sec/socialstudies/taks/
Scobee Middle School
7th Grade Social Studies
Class Expectations
Ms. K. Escalera
Conference Period: 2nd Period                                                        
Phone: (210) 645-7500  ext. 2641                                                                        
Course Description:  "Students will study all domains of social studies with a major concentration on the first half of American history.  The timeframe in the class begins with the early European Explorers of the fourteenth century to the Industrial Period.   
Products to demonstrate learning:  Gradebook will be used to calculate grades as follows: 60% is Daily Activities/Formative (Daily and ongoing work) such as:  Class work, homework, foldables, computer lab, participation & power point presentations
40% is Summative (Assessment) such as: Tests, benchmarks, quizzes & exams
Homework and Late Work Policy:  Students may be given homework twice a week.  Late work is accepted but with 10 points off a day with the lowest possible grade of a 50%.   Students experiencing extended absences will be given the same general guidance without the loss of points.  Students are responsible to obtain and complete missing work and assignments.
Academic Assistance/Tutoring:  Students are responsible to contact Ms. Escalera to make arrangements either before, during or after school on any difficulties they are experiencing.  Ms. Escalera's scheduled tutoring is every Monday from 2:45 – 3:30 p.m. or upon request.
Academic Integrity:  Students are reminded to not copy other student's work.  Research assignments should cite sources and not be plagiarized.  
General Classroom Expectations:  Rules and Procedures
Students should act with respect to themselves, others and property in all that they say and do.  Any mistreatment of a person or property will not be tolerated & will be reported to administrators.
Report to class in a timely manner each day, i.e., be in their assigned seat & ready to learn when the bell rings.  Pick up handouts from counter on the way into class.
    3.   Bring to class daily every day supply needed for class i.e. composition book, agenda, pen & highlighter.
Work individually and in groups to complete assignments, ensuring you do your part for you and your group's success.
    5.   The agenda & daily objective is written on the board each day & the student is expected to copy them in their agenda & notebook.  Each week the agenda book will be graded for use & parent     review (parent signature on Fridays, reviewing week's activities/entries.)  Parents are encouraged to check student's agenda and composition notebook often.  
We encourage parents to communicate with us via the agenda, parent portal, telephone or email.  These are all excellent communication links between parents & teachers.  
School & district rules which are located in the student handbook & posted in the classroom will be enforced.  Classroom courtesies & appropriate behaviors will be expected!  "Speaking out or expressing disapproval when another has the floor is both rude & unfair" & will be dealt with appropriately. (handbook)
Inappropriate behaviors include "Disrespect, defiance, profanity, and obscenity" and talking out of turn or off topic and will be dealt with appropriately. (handbook)
Absences:  Students are responsible to check with fellow students & their teacher for missing work.  Assignments that can be completed, i.e., were not in class, will be completed within the same time allotted upon the original issuance of the assignment.  If a student is absent the day before, it is his/her responsibility to fill out the agenda, jeopardy questions, and any missing assignments (agendas & jeopardy questions are graded) the day he/she is out.
Tardiness:  A student is considered tardy if they are not in their assigned seat and ready for the day's lesson when the tardy bell rings.  Attendance is taken with a seating chart and therefore students must be in their assigned seat.  Students have 4 minutes to get to each class.  Excessive tardies to class will lead to a phone call home and may result in stronger disciplinary actions by teachers and administrators.  
Materials Required:     1. Either a 1-2 inch binder for Social Studies or a larger binder for all core subjects.
2. Spiral Notebook/Composition Book (anticipate using 2 pages a day) & folder with brads & pockets
3. Pens, colored pencils, markers, scissors, ruler, and material for projects, i.e., poster board.
           4. Access to computer for Power point presentations.
Academic and Conduct Grades:  Progress Reports or Report Cards will be sent out throughout the academic year.  Conduct grades are based on student's level of cooperation, involvement, motivation, attitude, and respect for self and others.  Academic grades are given as 60% for Daily Activities, such as class work, homework and projects.  Assessments are 40% of a student's grade and include quizzes, tests, and benchmarks.   
If you have any questions please email or call (210) 645-7500 and we will get back with you as soon as we can.
I have read the Class Expectations and understand the information provided.
__________________________________
 _________
Student printed name                                                                Date
__________________________________
_________
Parent signature                                                                         Date
Class Pd.
Course Summary: